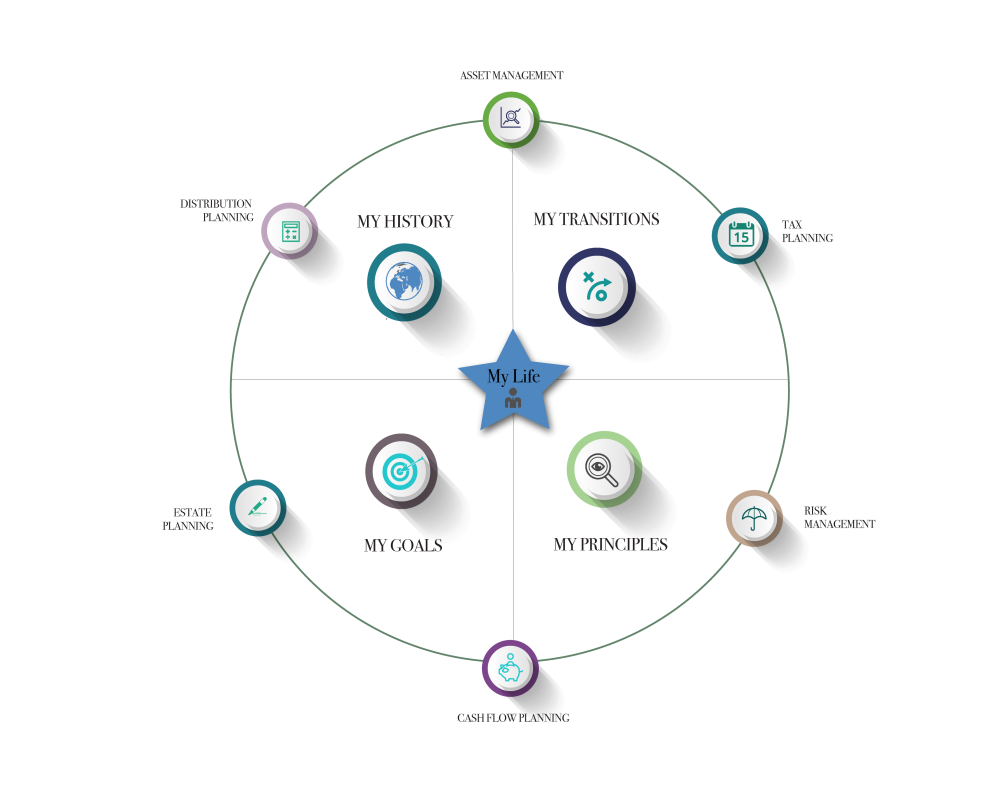 Ask New Questions
How do you know if you are getting a good ROLTM?
The ROLTM Index asks you to assess 10 aspects of your life that relate to whether or not you are making progress.
We identify areas where you can use your money more effectively to make things better. And, importantly, celebrate the areas where you've made progress
What is Your Return on LifeTM?

Learn how to live the best life possible with the money you have.
What is Life-Centered Financial Planningtm?

We believe the first step in achieving financial independence is to begin the process of merging your money with your life. To do this, you need to understand your true direction—where you want to go and why—and how to get there. To help you discover your priorities and create a roadmap, we take you through a detailed exercise that involves identifying your core values ("Heart's Core"), commitments and responsibilities ("Ought To"), and wants and dreams ("Fun To").

Shape Your Plan

Financial Life Planning™ is not about your money—it's about your life. To develop your plan, we start with the Discovery. We step away from what you've been doing to what you would like to do, not with your investments but with your life. Once we've learned what's important to you and have relevant financial data in-hand, we develop your financial plan. Our goal is for you to gain clarity of purpose and the freedom of living as fully as possible without the headache of complexity and the heartache of uncertainty.

Financial Independence & Legacy

ROLTM VERSUS ROI

How do you value life experiences versus wealth accumulation – Return on Life versus Return on Investment?
How do you define success in your family life?
How do you measure success in your financial life?
How do you hope to be remembered?

True wealth is not always about dollars and cents. Together we can align your goals with your values and help build the financial, emotional, social and physical wealth to achieve your intended objectives.

Why Choose a Life Centered Financial Planningtm Advisor?

Because of the unpredictability of life and the complexity of financial markets, it is important to work with a financial advisor who will help you to achieve your financial and life goals. And it is essential to select an advisor who will take the time to truly get to know you and to understand your concerns and your dreams.

Rising to this challenge is a small, but growing, cadre of life-centered financial professionals who are leaders in the trend of integrating financial planning and life planning. That means they are dedicated to understanding each client's unique set of values, priorities, challenges, and opportunities in order to make the most appropriate financial recommendations.
Let's Have a Conversation
Our Initial Discovery Phone Call is complimentary and provides the opportunity to get acquainted, discuss your questions, concerns, objectives and current situation and determine if our team and your pursuits are the right fit.